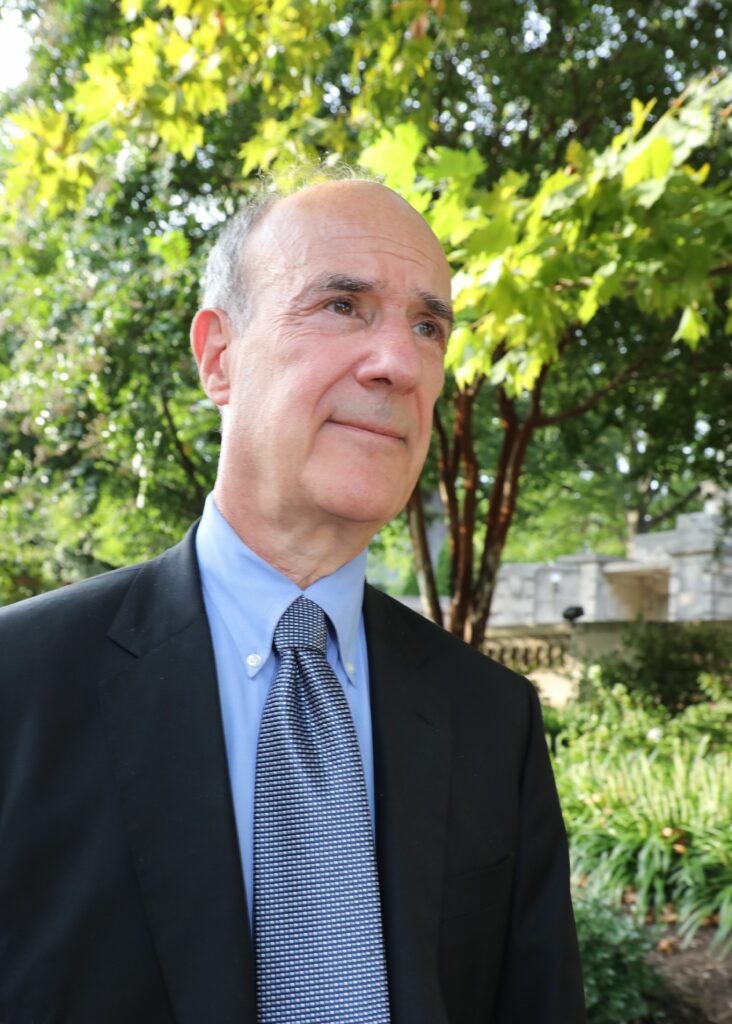 Highlights:
Special Envoy for Libya, U.S. Department of State
Deputy Asst. Secretary of State for International Law Enforcement
U.S. Senate Counsel
J.D. New York University School of Law, 1981
B.A. Yale University, 1976, cum laude
Admitted to DC and Massachusetts Bar
GOVERNMENT SERVICE
U.S. Department of State
Special Envoy for Libya, Senior Coordinator for Libya, Senior Advisor for MEK Resettlement, Bureau of Near Eastern Affairs
Served as Special Envoy for Libya. Played a central role in shaping and implementing US policies regarding Libya, working with U.S. officials, other governments, Libyan officials, representatives of the private sector, NGOs, and others interested in Libya and its future.
Served as the Senior Advisor for MEK Resettlement, securing the successful resettlement out of Iraq of more than 3000 members of an Iranian dissident group.
Awarded the Secretary's Distinguished Service Award, the highest award issuable by the Secretary of State, "for extraordinary service to the U.S. government in solving one of the most intractable issues in U.S. foreign policy, thereby avoiding the massacre of over 3,000 members of the Muhahedin-e Khalq and averting a crisis between Iran and Iraq," and for "leading U.S. policy in Libya, tenaciously and brilliantly moving Libya from a major foreign policy embarrassment to a fragile but democratic, internationally recognized government." November 2016.
Deputy Assistant U.S. Secretary of State for International Law Enforcement
Senior person at the U.S. Department of State responsible on a day-to-day basis for formulating and overseeing U.S. policy and programs to deal with money laundering, high-tech crime, intellectual property theft, corruption, small arms trafficking, trafficking in women, alien smuggling and other cross-border crime. Led interagency U.S. negotiations with P-8, EU, OAS, and managed bilateral modalities on law enforcement and financial regulatory issues with China, Russia, Thailand, Mexico, Hungary, Nigeria, Ukraine, and various countries in Central America, the Caribbean, and Southern Africa. Developed President Clinton's Transnational Organized Crime strategy, 1998. Conceptualized and negotiated Inter American Treaty on Illicit Arms (1997) and scope and framework of UN Transnational Organized Crime Convention (2000). Created and negotiated frameworks for international law enforcement academies for Southeast Asia (ILEA-Bangkok) and Southern Africa (ILEA-Gaborone). Created and served as Executive Secretary for 1st Global Forum Against Corruption (1999).
Awarded Distinguished Honor Award, U.S. Department of State, November 1999, which stated that "he created the capacity of the Department and the U.S. government to deal with international crime and criminal justice as important foreign policy functions," and that "the scope and significance of his achievements are virtually unprecedented for any single official."
United States Senate
Counsel and Senior Legislative Assistant, U.S. Senator John F. Kerry (D-Mass.)
Responsible for policy development and legislation for U.S. Senator in the areas of banking and financial services, foreign relations, law enforcement. Conducted numerous Congressional investigations of international money laundering, drug trafficking, corruption, and fraud, including investigations of Iran/Contra affair (1986-1988); drug trafficking and money laundering in the Caribbean and Central America, including the Bahamas, Haiti, and Panama (1988-1989); undertook key elements Senate investigation into the global activities of the Bank of Credit and Commerce International (BCCI), 1990-1992; primary authorship of the Senate's final report on BCCI. Investigations included extensive inquiries into activities of U.S. intelligence and law enforcement agencies in the period 1986-1994.
EDUCATION
J.D. New York University School of Law, 1981
B.A. Yale University, 1976, cum laude
BAR ADMISSIONS
District of Columbia – 1989
Massachusetts – 1981
OTHER CREDENTIALS
Non-Resident Scholar. Research, writing, and speaking on political, economic and security issues relating to Libya, North Africa, and the Middle East at the Middle East Institute in Washington, D.C.
Steering Committee, Transnational Threats Initiative, at the Center for Strategic International Studies in Washington, D.C.